About
---
Take On Payments, a blog sponsored by the Retail Payments Risk Forum of the Federal Reserve Bank of Atlanta, is intended to foster dialogue on emerging risks in retail payment systems and enhance collaborative efforts to improve risk detection and mitigation. We encourage your active participation in Take on Payments and look forward to collaborating with you.

Subscribe by E-mail

Subscribe by RSS
Comment Standards:
Comments are moderated and will not appear until the moderator has approved them.

Please submit appropriate comments. Inappropriate comments include content that is abusive, harassing, or threatening; obscene, vulgar, or profane; an attack of a personal nature; or overtly political.

In addition, no off-topic remarks or spam is permitted.
December 19, 2022
Our Payments Wishes and Resolutions for 2023
In our year-end webinar last week, the Retail Payments Risk Forum team provided our perspective on several major developments and issues in payments in 2022. Since our time was limited, we wanted to share some additional thoughts and wishes for payments in 2023.
Nancy Donahue: Earlier this year, the Board of Governors finalized guidelines for evaluating nontraditional financial institutions' requests to be granted master accounts and access to the Fed's payment services. Fintech firms have held the promise of greater financial inclusion and wider access to financial services, so it will be interesting to follow this space in 2023.
Scarlett Heinbuch: I am intrigued by cash acceptance in the United States and efforts being made to require brick-and-mortar merchants to accept cash for payment. It will be interesting to see what happens with cash access for people nationwide. I wish for people to be able to pay for goods and services in a way that meets their needs and choices.
Dave Lott: I am especially interested in seeing the uptake by financial institutions and consumers of instant payments with the introduction of the FedNow service. I wish that the issue of consumer liability for electronic peer-to-peer, or eP2P, in cases where the legitimate accountholder initiates the transaction is quickly resolved.
Claire Greene: Like Dave, I'm excited to see the product innovations that I hope will result from the widespread availability of instant payments. The information that must flow with B2B (business-to-business) payments and the plethora of business accounting systems used to record payments and receipts make innovation in this space challenging. These challenges, however, also make B2B payments ripe for change. Let's see what happens.
Catherine Joseph: Although check usage has declined, I plan to continue to follow trends in both consumer and business checks, particularly trends in check fraud, and what actions the industry is taking to increase security and help curb check fraud.
Jessica Washington: My hope is that we can take steps as an industry to improve payments data collection, analytics, and sharing so that we can better inform policy and business decisions. I especially look forward to seeing improvements in fraud and threat data sharing so that we have the room to innovate and improve payment systems.
We want to wish our readers all the joy of the holiday season and best wishes for 2023. Our Take on Payments blog will resume on January 9.
December 12, 2022
Digital Divide Trickles Down to Payment Account Adoption
Four in 10 consumers with household income less than $30,000 did not have broadband access or a desktop or laptop computer in 2021, according to Pew Research Group

. One-quarter with household income less than $30,000 did not have a smartphone. This digital divide trickles down to the adoption of payment accounts like PayPal, Venmo, and Zelle, which are predicated on either a computer and internet access or mobile access.
New data from the Survey and Diary of Consumer Payment Choice (SDCPC) show steady growth across all income categories in the use of these digital payment accounts, increasing from 43 percent of consumers using these accounts at least once in the 12 months leading up to October 2016 to 66 percent in 2021.
Diving deeper into use by income, consumers in high-earning households were most likely to use digital payments accounts and those in low-income households were least likely. Eight in 10 consumers with household income north of $125,000 a year used digital payment accounts in 2021, compared to about half of consumers with household income less than $35,000.
These relationships have held true over all the years from 2016 to 2021: members of all income groups became more likely to use digital payment accounts, and lower income groups were less likely than others to use them each year. A snapshot from 2021 illustrates the intra-year differences.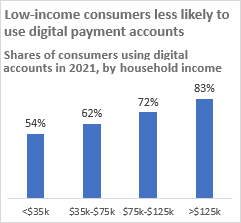 While payments innovation could end up helping lower-income US consumers, these data show that it's important to view payments as part of an ecosystem that includes digital access. As my Atlanta Fed colleague Oz Shy wrote back in 2020, "Low-income consumers are not only constrained with spending, but also with the type and variety of payment methods available to them." Despite the upheaval in the years of the COVID-19 pandemic, the 2021 results for consumers' use of digital payment accounts show that this constraint still exists.
I invite you to play around with the Survey and Diary data.
December 5, 2022
The Battle over Consumer Liability for eP2P
Criminals like to use electronic person-to-person/peer-to-peer (eP2P) payments services to execute scams because of the speed and finality with which they can receive their ill-gotten funds. Unfortunately, this very speed and finality can leave victims with no money and often no way to get it back. I posted a few months ago about some litigation brought by consumers against financial institutions (FI) in situations where consumers voluntarily sent funds to scammers using an eP2P service. When the consumers later realized they had been taken, they sought reimbursement from their financial institutions under the liability protections provided under Regulation E. However, because the consumers initiated the funds transfers themselves, these instances did not meet the definition of being unauthorized and were therefore not eligible for reimbursement. I suggested, from my layperson's perspective, that the definition of an "unauthorized transaction" in Reg E was quite definitive in covering only transactions initiated by unauthorized third parties.
Senator Elizabeth Warren (D-MA) released a report

last October calling on the Consumer Financial Protection Bureau (CFPB) to "clarify and strengthen" Reg E with regard to the eP2P service offered by Zelle. Although the report focuses on Zelle, other eP2P services such as PayPal/Venmo and Cash App are also used in such scams, as I mentioned at the beginning.
In response to the report and as a follow-up to an earlier meeting with the CFPB, the American Bankers Association (ABA) released a letter

on October 27 to CFPB director Rohit Chopra refuting Senator Warren's claims. The letter points out that "fraud is de minimis relative to the transaction volume, with 99.9 percent of the 5 billion Zelle transactions processed in the past 5 years without issue." The ABA letter cites the numerous steps that Zelle and its participating FIs have taken to educate customers and implement safeguards to protect customers against potential scams.
And in the latest development, a recent Wall Street Journal article

reported that the Zelle owners were in discussions to develop a reimbursement plan for scam victims. Under the plan, which would apply to all FIs participating in the Zelle network, if it's determined that the customer was tricked into sending funds, the receiving FI would reimburse the initiating FI, which would then reimburse the customer. A major challenge in this process will be like what the United Kingdom's Contingent Reimbursement Model is facing: finding a way to consistently determine whether a reasonable person would be tricked.
One concern is that such a voluntary reimbursement policy could lead to "first-party fraud," whereby the customer claims to be a victim of a scam but is actually colluding with the recipient of the funds. We will continue to closely monitor and report on developments in this issue.
November 28, 2022
What's Had Your Attention in 2022?
For many people, Wordle is one of the more entertaining things to emerge over the last year and its once-daily word limit drives anticipation for players worldwide. Recently, Wordle inspired the British-English Cambridge Dictionary's word of the year—homer

—which stumped many international players not familiar with the baseball term. We haven't seen any payments words make their way into Wordle—yet—but a few words in the payments lexicon have attracted our interest this year, some of which have been featured in our weekly blogs. In our upcoming annual, year-end webinar, members of the Retail Payments Risk Forum will share and debate their picks for payments word of the year and the key issues that make it relevant for 2022.
Please join us on December 15 from 1 to 2 p.m. (ET) for our next Talk About Payments episode, when Atlanta Fed payments experts will talk about what's new and noteworthy in payments during 2022 and identify trends, opportunities, and challenges for 2023 and beyond.
Among the topics up for discussion:
continuing evolution of the payments infrastructure
trends and challenges with business payments
opportunities to band together to fight fraud
And, of course, the payments word of the year. Bring your questions and take part in the conversation!
The webinar is free and open to the public. However, you must register

. Once registered, you will receive a confirmation email with the login information. If you cannot attend the live event, a recording of the webinar will be posted before the end of the year.
If you'd like to view previous webinars, go to our Talk About Payments webinars page.
We hope to see you on December 15!