About
---
Take On Payments, a blog sponsored by the Retail Payments Risk Forum of the Federal Reserve Bank of Atlanta, is intended to foster dialogue on emerging risks in retail payment systems and enhance collaborative efforts to improve risk detection and mitigation. We encourage your active participation in Take on Payments and look forward to collaborating with you.

Subscribe by E-mail

Subscribe by RSS
Comment Standards:
Comments are moderated and will not appear until the moderator has approved them.

Please submit appropriate comments. Inappropriate comments include content that is abusive, harassing, or threatening; obscene, vulgar, or profane; an attack of a personal nature; or overtly political.

In addition, no off-topic remarks or spam is permitted.
April 12, 2021
NFTs Raise Questions about Money Laundering
I must admit—my head is spinning a bit trying to grasp the valuation of nonfungible tokens, which are commonly referred to as NFTs. In March, an NFT by the artist Beeple sold

for almost $70 million. An NFT is a unique digital asset that is authenticated using a blockchain. Digital assets can be artwork, music, sports cards or videos, or even tweets

. There are multiple marketplaces for purchasing NFTs, oftentimes with cryptocurrencies or stablecoins, and many of these platforms are focused on a specific segment of the NFT market such as this one

dedicated to players and highlights from the National Basketball Association. (The concept seems so far-fetched that Saturday Night Live


based a skit on NFTs.)
Once my head stops spinning due to the astronomical valuations of some NFTs, it immediately focuses on the money-laundering risks. For years, the art world

has been used to launder funds. Reasons for this include the anonymity often sought by buyers and sellers, the use of shell companies to hide owners, the use of cash for high-value purchases, and the challenges of determining a fair market value for a singular piece of art that might be purchased for well above market value, which is a red flag for money laundering. Are these reasons for using art in the physical world to launder funds alleviated or exacerbated in the digital world? I don't have the answer for this question because I admittedly haven't spent the time to fully understand the measures the NFT industry has taken to mitigate money laundering risks. I do know that transactions on a public blockchain are transparent, but that doesn't necessarily mean that the individuals engaged in the transaction can be identified. And as I mentioned earlier, determining a fair value for NFTs presents quite the challenge.
Whether or not NFTs are being used for money laundering, I am not alone in asking the question. In March, the Financial Action Task Force, seeking input from the public by April 20, 2021, released a public consultation paper

on draft guidance on a risk-based approach to virtual assets and virtual asset providers. This guidance has the potential to affect NFT marketplaces and providers by encouraging regulatory agencies across the globe to require them to perform some levels of Bank Secrecy Act/Anti-Money Laundering monitoring and reporting. The task force is looking to implement changes to the draft and approve this updated guidance at its June 2021 meeting.
Are you interested in learning more about NFTs and the potential risks they may pose? While we will continue to monitor developments and provide pertinent updates, let us know if you have questions or concerns that you think we should address given the increased media exposure and transaction volumes of NFTs.
April 5, 2021
New Tools to Fight Online Fraud
When consumers shift payments channels, criminals do, too. We have discussed this point in post after post. We've also written on how the pandemic has had a seismic effect on digital payments during the pandemic. This chart sums up the growth pretty handily.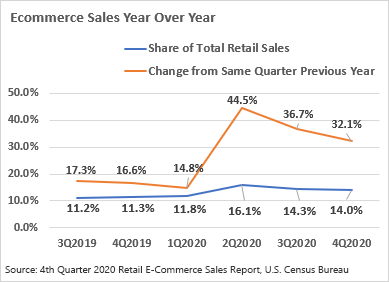 Even before the pandemic contributed to this spike, criminals had been using purloined payment card credentials and in-store or curbside pickup to take advantage of the growth in digital payments. (In-person pickup allows criminals to quickly put their hands on their ill-gotten gains.) To improve ecommerce security, the industry began developing technical specifications and protocols, and in late 2019, the Mobile Payments Industry Workgroup (MPIW) formed a working group to provide a better understanding of these protocols and specifications. This working group published its findings in an educational white paper

just last month. (The MPIW

was facilitated by the Federal Reserve Banks of Boston and Atlanta.)
Among these specifications and protocols the white paper explains is the 3-Domain Secure protocol, released in December 2018, and the initial Secure Remote Commerce specifications, published in June 2019 (both from EMVCo

). It also discusses the WebAuthn specification, which came on the scene in March 2019 and was a product of the World Wide Web (W3C) consortium

working with the Fast Identity Online (FIDO) Alliance

. The white paper identifies the key challenges to adopting these protocols and provides guidance about how they may complement one another to enhance the security of the online and mobile channels.
All these fraud mitigation tools are in their early stages of adoption, with additional development and functionality to come. In the meantime, we hope that the white paper provides you with a solid foundation of knowledge of these new tools and how the industry continues its battle against fraudulent payment activity.
March 29, 2021
SNAP Continues to Pop
Over the last year, a number of our Take on Payments posts have expressed industry concerns about the impact that the major shift to digital payments propelled by the COVID-19 pandemic will have on the un- and underbanked population. While several governmental assistance programs have modified their programs to accommodate remote enrollment and ongoing participation, the actual use of these benefit funds was largely limited to in-store purchases of foods, drugs, and other items authorized by those programs. My colleague Catherine Thaliath authored a post last July reviewing how the Supplemental Nutrition Assistance Program (SNAP) had moved from a one -state, pilot program in 2019 to supporting online purchases by SNAP cardholders in six states by early 2020.
I'm excited to report that the expansion of SNAP's online ordering program has continued aggressively through the pandemic with the participation of 47 states and the District of Columbia. Only Alaska, Louisiana, and Maine are not currently participating in the digital payment program; Maine has plans to go live later this year. In most states, the major grocery retailers that were already supporting online ordering are participating. SNAP funds can be used only for the purchase of the eligible food items and not for delivery and any other convenience fees.
With the digital expansion of the assistance program, program administrators at the federal and state levels are well aware of the increased risk of fraudulent activity that comes with the buy-online-pick-up-in-store option (sometimes referred to as BOPIS). The SNAP program requires that online retailers support PIN entry, which helps to mitigate fraud risk. The retailers follow a number of traditional steps to ensure that the person picking up.
It is encouraging to see how agencies are adopting technology for social good in this challenging time.
March 22, 2021
Challenges and Changes in Financial Inclusion and Empowerment
Not so long ago, women faced limitations on their financial freedoms in areas we take for granted today. Opening a bank account, obtaining a credit card, or acquiring a mortgage or business loan in their own names was restricted. The norms of the day fostered inconsistent practices that left many women financially disadvantaged, disempowered, and dependent on a male relative. Fortunately, things are different today. Women are now drivers in the payments seat, making more than 90 percent of household purchases.
In honor of Women's History Month, let's take a look at the role of women in payments and how our financial options have evolved.
As recently as the 1960s, married women could not open bank accounts in only their names. A woman had to bring a male relative, usually a husband, to cosign. A single woman would need her father's signature.
In the 1970s, a married woman couldn't obtain a credit card or loan in her name without her husband as cosigner. Single women could be denied outright. Things changed in October 1974, with the Equal Credit Opportunity Act

that allowed single, widowed, and divorced women to obtain a credit card or a loan without a male cosigner and without regard to race, religion, national origin, age, or marital status. Still, even when women could get credit cards, they often faced other penalties

including paying a higher interest rate or had credit limits based on income that was discounted to 50 percent of their actual earnings.
Until the late 1980s, women couldn't get a business loan without a male cosigner. The Women's Business Ownership Act

of 1988 amended the Small Business Act to assist the efforts of businesses owned and controlled by women to obtain loans on their own. Since then, women's business ownership has dramatically increased.
By 2019, women owned more than 11.6 million businesses (combined employer

and nonemployer

), employed more than 9 million people

, and generated $1.9 trillion in annual sales. Now, women of color make up 89 percent of newly opened businesses each year, with 50 percent of all women-owned businesses owned by women of color. (See the Small Businesses of Color Recovery Guide

for information on how communities can support small businesses of color as they recover from the economic crisis caused by the pandemic.)
Women's power in the field of finances continues to grow, with many women taking C-suite leadership roles

in the areas of financial services and payments, including in fintechs. It is essential that we have women in these positions of leadership because women do hold such influence in household purchasing. Having payment systems and choices that make it easy, secure, and fast for women to exercise their purchasing power are the opportunities in the 21st century.