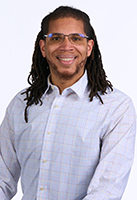 Dontá Council
CED Adviser
donta.council@atl.frb.org
Biography

Dontá Council is an adviser on stressors and shocks to low-to-moderate-income communities on the Community and Economic Development (CED) team at the Atlanta Fed. Dr. Council's research focuses more broadly on the impacts of natural hazards and disasters on vulnerable communities.

Before joining the Atlanta Fed, Dr. Council spent 10 years working in the public sector, focusing on uplifting the voices and lived experiences of marginalized communities through research and community engagement. He has worked on a variety of applied research and community-based projects that center the experiences of households and community-based organizations affected by disasters. His dissertation investigated the influence of flood risk perceptions and household adaptive behavior using principles grounded in the fields of social psychology and behavioral economics. He specializes in the use of diverse methodological methods and has an interest in interdisciplinary approaches to answering complex problems, including qualitative research design.

Dr. Council completed his bachelor's degree in political science and doctorate in public administration and policy from Old Dominion University and his master's in public administration from Jacksonville State University.

Publications

Articles

Sarah Stein, Dontá Council, and Grace Meagher. "Emergency Rental Assistance Insights from the Southeast." Federal Reserve Bank of Atlanta Partners Update (September 2, 2022).

Dontá Council, Mary Hirt, and Julie Siwicki. "Household Financial Well-Being in the Southeast." Federal Reserve Bank of Atlanta Partners Update (July 14, 2022).

Dontá Council, Grace Meagher, Janelle Williams, and Ann Carpenter. "Constraints to an Inclusive Recovery: Highlights from an Atlanta Fed Report." Federal Reserve Bank of Atlanta Partners Update (February 17, 2022).

Dontá Council, Ann Carpenter, and Janelle Williams. "Navigating a Crisis: An Uneven Recovery for Communities and Organizations in the Southeast." Federal Reserve Bank of Atlanta Special Reports (December 2021).

Ann Carpenter, Dontá Council, and Jasmine Burnett. "Understanding How Community Resilience Can Inform Community Development in the Era of COVID." In COVID-19: Systemic Risk and Resilience, 345–357. Cham, Switzerland: Springer (2021).

Blog Posts

Scarlett Heinbuch and Dontá Council. "Vulnerable Populations and the Case for Cash." Take on Payments. May 23, 2022.

Other Publications

Tyler, Jenna, Abdul-Akeen Sadiq, Dontá Council, and Douglas Noonan. "Floodplain Managers' Perceptions of Community Flood Concern, Mitigation, Preparedness, and Response in the United States." Journal of Contingencies and Crisis Management (June 17, 2022). https://onlinelibrary.wiley.com/doi/abs/10.1111/1468-5973.12414

Dontá Council, Tihara Richardson, and Juita-Elena (Wie) Yusuf. "Key Elements of User Preferences for Flood Alerts and Implications for the Design and Development of Flood Alert or Warning Systems." In Communicating Climate Change, ed. Juita-Elena (Wie) Yusuf, and Burton St. John III,116–132. London: Routledge (2021).

Marina Saitgalina, and Dontá Council. "Contextualizing Performance of Coordinated Care Network of Veteran Services in Virginia." Journal of Social Service Research 46, no. 3 (2020).

Juita-Elena (Wie) Yusuf, Lenahan L. O'Connell, Dontá Council, Khairul Azfi Anuar, David Chapman, Tancy Vandecar-Burdin, and Meagan M. Jordan. "Support for and Behavioral Responses to Tolls: Insights from Hampton Roads, Virginia." In Building a Sustainable Transportation Infrastructure for Long-Term Economic Growth, ed. Olga V. Smirnova,113–144. Hershey, PA: IGI Global (2019).

Dontá Council, Michelle Covi, Wie Yusuf, Joshua Behr, Makayla Brown, and Virginia Sea Grant. "The 'New Normal' of Flooding in Portsmouth, Virginia: Perspectives, Experiences, and Adaptive Responses of Residents and Business Owners in Low to Moderate-Income Communities. Old Dominion University Digital Commons (2018).