Since the Great Recession, workers and employers have faced a growing skills gap in the labor market. For the southern United States, this new environment requires a shift from an economy once built on low-skill industries to one where applicants compete for jobs that require training beyond a high school diploma. Most of these jobs are middle-skill jobs, requiring education or training beyond high school but not a four-year college degree. Throughout the South, there are currently not enough workers trained to fill these jobs. The skills gap hurts southern states because the lack of skilled workers makes it challenging to attract and retain new businesses. The gap also hurts low-wealth and low-skilled workers who are not able to advance within their careers and move into middle-skill jobs that offer fair wages and good benefits.
Funders and grantmakers that support workforce development can help bridge this skills gap by working with businesses and workforce intermediaries to educate and train more of the region's adults, addressing people's barriers to work, and in creating good quality jobs and wealth-building opportunities.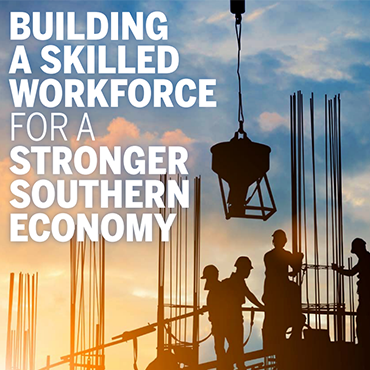 This webinar will discuss insights and recommendations from the Building a Skilled Workforce for a Stronger Southern Economy report and the role that funders, organizations, and community development organizations and leaders can play in establishing policies and initiatives to address barriers to work and bolster economic improvement. Register for the October 31 webinar, which starts at 3 p.m. (ET). Participation is free, but preregistration is required.
Speakers include:
• Sam Evans, Federal Reserve Bank of St. Louis's Little Rock Branch
• Allison Gerber, Annie E. Casey Foundation
• Melissa Johnson, National Skills Coalition
The Connecting Communities® webinar series is a Federal Reserve System initiative intended to provide a national audience with timely information on emerging and important community and economic development topics. All webinar sessions are recorded and archived on the Connecting Communities® website.