Atlanta Monetary Museum
Visitors no longer need to be vaccinated and do not need to show proof of COVID-19 vaccination or a negative test to enter. Masking is optional.
The Monetary Museum will close at 1:30 p.m. on April 6.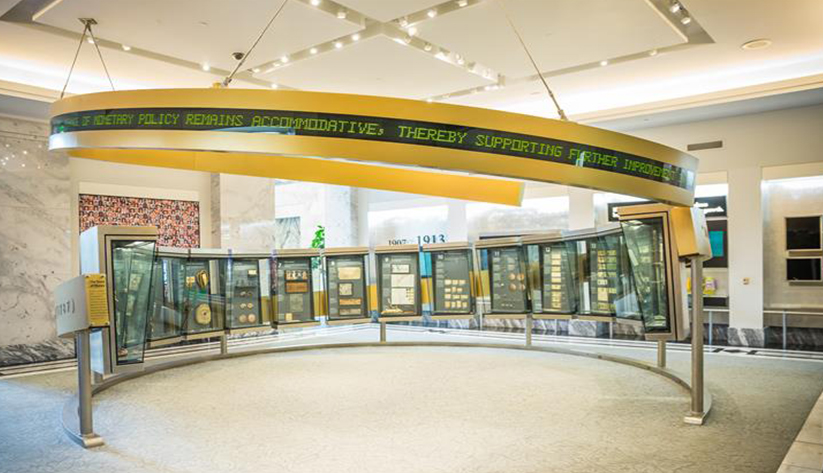 About
Welcome to the Atlanta Fed's Monetary Museum. By exploring an exhibit of historical artifacts, you'll discover the fascinating story of money—from barter to modern times. You'll also learn about the turbulent history of banking in America and see examples of rare coins and currency.
The museum features a display on the history of money; interactive, multimedia exhibits explaining the Federal Reserve's role in the economy; and a view of the Bank's automated vault and cash-processing areas.
A tour of the museum provides in-depth lessons on the role of the Federal Reserve in the US economy.
Learn how and why the Fed conducts monetary policy and how its actions affect your life.
Hear about the Fed's important roles in bank supervision and regulation.
Get the big picture of the many ways the Fed provides payments system services to help our economy run smoothly and maintain the stability of the financial system.
Then, you can take a look inside our cash-processing operations, where millions of dollars are counted, sorted, or shredded daily. You'll also get a glimpse into the Bank's automated vault and see the robotic transports that do the heavy lifting.
All this and more awaits you at the Atlanta Fed's Monetary Museum. (To whet your appetite, take a virtual tour of our collection as told in The Story of Money display.)
Plan Your Visit
Group guided tours

For groups of 10–30 people, free group guided tours of the Monetary Museum may be scheduled by appointment only. Tours are offered Tuesday through Thursday at 10 a.m. and 1 p.m. (ET). We can schedule tours only for school, business, and community groups. Please be aware that the tour calendar gets booked four to six months in advance. Keep this in mind when you request a tour date.
To request a group guided tour, please complete the form.
Self-guided tours
Individuals or groups of fewer than 10 people may participate in self-guided tours of the Monetary Museum from 9 a.m. to 4 p.m., Monday through Friday. Self-guided tours are limited to the Monetary Museum and do not need to be scheduled.
Parking
The Monetary Museum is located in Midtown Atlanta across from the Midtown Marta station. Visitors should expect to pay to park in neighboring public parking lots and garages.
School buses should park on 11th Street facing Peachtree Street between West Peachtree and Peachtree Streets.
Visitor guidelines
COVID-19 requirements for visitors (as of February 6, 2023)

We have recently changed requirements to enter our buildings. You no longer need to be vaccinated and do not need to show proof of COVID vaccination or a negative test to enter. Masking is optional as long as the CDC's community level is low or medium. When the CDC's community level is high, we will require masks in those locations.
COVID-19 community levels in Federal Reserve Bank of Atlanta District cities may vary.
To ensure the safety of visitors and staff, all visitors must walk through a metal detector. Please be prepared to remove all objects from your pockets and place them in the bins. If you are unable to walk through the detector, the officer will screen you by hand with an electronic wand.
You may store your valuables and other personal effects in secured lockers.
Please note the following:
We do not allow any weapons, including pepper spray and pocketknives, into the museum.
The Bank prohibits photography as well as audio and video recording.
If you are visiting the museum for a self-guided tour, you must present a valid form of government-issued ID.
Thank you. We hope you enjoy your visit.