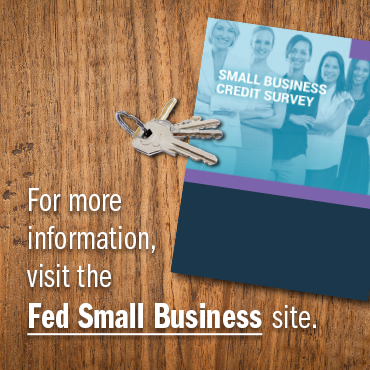 The annual Small Business Credit Survey (SBCS) is a national survey that provides insight into the financing needs
and experiences of businesses with fewer than 500 employees. The survey aims to inform efforts to help small firms by making small business insights from the 12 Reserve Banks easily accessible to policymakers, community leaders, and service providers.

SBCS reports, underlying data, and questionnaires from 2016 on can be found at Fed Small Business. Reports from earlier surveys are available below.
2014–2015 Federal Reserve Banks' Small Business Credit Survey
2015
The 2015 survey was a collaboration among seven Federal Reserve Banks: Atlanta, Boston, Cleveland,
New York, Philadelphia, Richmond, and St. Louis.
2014
The 2014 survey was a joint effort with the New York, Atlanta, Cleveland, and Philadelphia Federal Reserve Banks. It included responses from both employer and nonemployer firms from much of the Eastern United States.
2010–2014 Atlanta Fed Small Business Survey of the Southeast
From 2010 through the first quarter of 2014, the Atlanta Fed administered a periodic survey to businesses with fewer than 500 employees to gather information on trends in credit access and other issues relevant to small business. These surveys are archived below.