At the Federal Reserve Bank of Atlanta, we embrace diversity, equity, and inclusion as essential to who we are. The Bank's values—integrity, excellence, and respect—also support our sincere belief that every employee is an important part of the Atlanta Fed's story and success. Our aim is to demonstrate, in all of our actions, the simple truth that only by drawing on the talent, expertise, and perspectives of our entire staff and external stakeholders will the Bank reach its greatest potential in fulfilling its mission.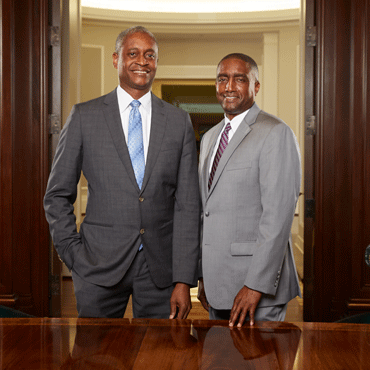 Raphael Bostic, president and CEO (left), and André Anderson, first vice president and chief operating officer
Delivering on our commitment
Established by Section 342 of the Dodd-Frank Wall Street Reform and Consumer Protection Act, the Atlanta Fed Office of Minority and Women Inclusion (OMWI) is responsible for all matters relating to diversity in management, employment, and business activities at the Bank. The OMWI builds upon our long-standing efforts to create an inclusive workplace, attract and retain a diverse staff, and promote supplier diversity.
The Bank informs its commitment to diversity and inclusion, in part, with the support of 10 employee-led Employee Resource Networks.
Employee resource networks
Employee resource networks (ERNs) have been an integral part of the Atlanta Fed's diversity and inclusion success since 2012. Voluntary, employee-led ERNs build business value by bringing awareness to relevant diversity and inclusion issues that affect the Bank's staff, values, and culture.
Our current ERNs include:
Asian-Pacific Islander | Respect and Empowerment (ASPIRE)
BUILD (Blacks United in Leadership Development)
EAGLE (Equality Alliance for Gay, Lesbian, Bisexual, and Transgender Employees and Allies)
GPS (Generations Promoting Success)
HOLA (Honoring Our Latino/Hispanic Allies)
IDEA Network (promotes technology, innovation, and creativity)
Remote Worker Network
VRN (Veterans Resource Network)
WFN (Working Families Network)
WISE (Women Inspiring Success and Empowerment)
WREN (Working Remote Employee Network)
The Atlanta Fed evaluates all managers on their competence in managing diverse teams and practicing inclusion in achieving objectives. All staff members receive education and training on best practices for embracing diversity and inclusion in the workplace.
Ensuring a respectful workplace enriches the Bank and helps us maintain our position as a high-performing organization and an employer of choice. We expect every employee to model the utmost professionalism and fairness by consistently communicating and behaving in a respectful manner.
Our commitment to equal opportunity employment
It is the policy of the Federal Reserve Bank of Atlanta to seek and employ qualified personnel and to provide those employed both equal treatment and equal opportunity for advancement. Accordingly, the Bank's terms and conditions of employment including employment decisions (for example, recruiting, hiring, promotion, compensation, benefits, facilities, evaluation, training, transfer, disciplinary action, and termination) will be made without regard to age, race, color, sex, religion, physical or mental disability, covered veteran or uniformed service status, pregnancy, national origin, genetic information, sexual orientation, gender identity or expression, or any other classification protected by federal, state, or local law or ordinance.
The Bank will make reasonable accommodations for qualified persons with known disabilities unless doing so would result in an undue hardship. In addition, Bank-sponsored activities shall be available to all employees without unlawful discrimination.