About
---
Take On Payments, a blog sponsored by the Retail Payments Risk Forum of the Federal Reserve Bank of Atlanta, is intended to foster dialogue on emerging risks in retail payment systems and enhance collaborative efforts to improve risk detection and mitigation. We encourage your active participation in Take on Payments and look forward to collaborating with you.

Subscribe by E-mail

Subscribe by RSS
Comment Standards:
Comments are moderated and will not appear until the moderator has approved them.

Please submit appropriate comments. Inappropriate comments include content that is abusive, harassing, or threatening; obscene, vulgar, or profane; an attack of a personal nature; or overtly political.

In addition, no off-topic remarks or spam is permitted.
July 6, 2020
Could COVID-19 Help Narrow the Digital Divide?
The stay-at-home requirements implemented in March upended our personal and professional lives. Most of us have had to adopt new ways of living, working, and conducting commerce. Although I did not previously have a dedicated home office, the essential tools required to perform my job remotely were in place—in particular, I had reliable broadband internet. An available and reliable internet connection in the home is critical for distance-based schooling, telehealth, and remote work, and the shuttering of schools, retail establishments, and workplaces during the COVID-19 pandemic has highlighted the disparity that remains in broadband internet availability. The Atlanta Fed's community and economic development group investigates this disparity in a recent article, which largely affects rural America. (Another article summarizes some of the group's research.) Could this pandemic be the catalyst that helps us close this digital divide?
The Telecommunications Act of 1996 requires the Federal Communications Commission (FCC) to report annually on whether broadband "is being deployed to all Americans in a reasonable and timely fashion." Since 2017, the FCC has made closing the digital divide a top priority, specifically targeting low-income consumers, rural areas, Tribal lands, and disaster-affected areas. According to the CED, in the states within the Atlanta Fed District, "1.2 million people live in counties where less than half the population is within reach of basic fixed broadband service." The article goes on to state that the economic challenges associated with narrowing the digital divide are similar to those experienced in the 1940s and '50s as the United States pursued rural electrification, and primarily attributed to costly infrastructure.
The FCC's benchmark for high-speed broadband is 25/3 megabits per second— that is, a speed of 25 megabits-per-second download and 3 megabits-per-second upload. Although efforts to close the gap have resulted in some gains, the FCC's 2020 Broadband Deployment Report
notes that, as of the end of 2018, the standard was unavailable to approximately 5.6 percent of Americans, particularly those in rural areas and Tribal lands.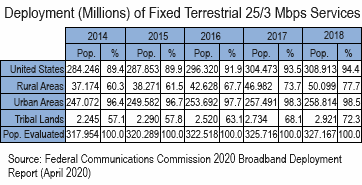 The Coronavirus Aid, Relief, and Economic Security (CARES) Act, signed into law in late March, included funding for the construction of infrastructure necessary to expand broadband access to rural areas—infrastructure that will remain after the state of emergency has expired. Some organizations are investing their own money in the effort. Here in Georgia, for example, a recent donation from a major telecommunications provider tripled the number of wifi-enabled school buses in rural communities.
When nonessential businesses closed this spring, I turned to online shopping to purchase basic household items, as did many others with broadband access. This is a trend I expect will continue even when life gets back to "normal." Compared to the same quarter in 2019, the Department of Commerce reported an ecommerce transaction growth rate of almost 15 percent in the first quarter of 2020. Based on my own anecdotal research of how often delivery trucks drive down my street each day, I'm predicting that second-quarter data, scheduled for release on August 18, will likely show increased growth as a result of the pandemic.
My ability to access broadband internet has been critical to my successful stay-at-home work strategy. Will the broadband infrastructure enhancements resulting from recent legislation have an appreciable impact on the digital divide? If so, it will be a positive outcome from an otherwise daunting year.