If you follow this blog, you know that I consider our abrupt adjustments around food purchases to be among the most notable changes that occurred with COVID-19:
Three years on, the latest data
from the Survey and Diary of Consumer Payment Choice show that we are getting more comfortable with prepandemic behaviors. Just look at in-person purchases of food and drink to eat away from home:
The number of in-person payments per consumer for food eaten away from home plummeted to 5.4 in October 2020, down from 7.8 in October 2019. This includes payments for fast food and at coffee shops, restaurants, and bars (shown separately in the chart below).
Then, in 2021 and 2022, the number of payments slowly rebounded. New data put the total at 7.3 for 2022—almost back to prepandemic levels.
In-person payments for fast food and at coffee shops still lag the 2019 number, perhaps because hybrid work means fewer breakfasts and lunches on the go for many workers.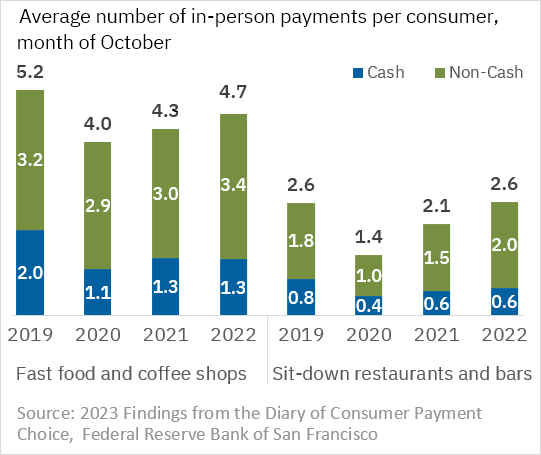 We are also now more comfortable with an app payment or a quick tap of phone or card to pay. We changed a long-running habit during COVID, and the change in our use of cash for food away from home appears to be sticking:
Cash payments remain less common at these food purveyors, compared to prepandemic levels.
Forty percent of in-person fast food and coffee payments were in cash in 2019, down to 28 percent in 2022.
Thirty percent of in-person payments at restaurants and bars were in cash in 2019, down to 24 percent in 2022.
You can chew over the number and value of consumer payments by payee type, by transaction type, and by location in the 2022 tables and data posted at atlantafed.org last week. It's food for thought, and I hope you enjoy the meal.