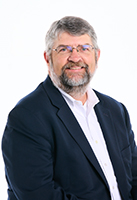 Michael Chriszt
Vice President and Public Affairs Officer
email
:: 404-498-8847
For an interview press should contact Public Affairs at 470-249-8348.
Biography

Michael Chriszt is a vice president and public affairs officer in the Federal Reserve Bank of Atlanta's Public Affairs Department. In this role, he is responsible for the Bank's communications, which include media relations, publications, websites, conferences, and outreach activities such as speeches, economic education, and corporate citizenship. He also oversees the Bank's internal communications and the Knowledge and Information Management function.

Prior to assuming his current responsibilities, Chriszt was a vice president in the Research Department. There, he was responsible for the Regional Economic Information Network and the Center for Real Estate Analytics. From 2008 to 2010, Chriszt served as assistant vice president in the Research Department. He was also director of international and regional analysis from 2004 to 2008. In these roles, he oversaw the analysis of economic conditions in the Sixth Federal Reserve District and of international economic developments. Chriszt joined the Bank in 1989 as a public information specialist and moved to the Research Department in 1990.

While at Miami University in Ohio, Chriszt earned two bachelor's degrees, one in history and one in diplomacy and foreign affairs. He also earned a master's degree there in political science with emphases on international economics and comparative politics. Chriszt received a certificate of study of the European Union and is a graduate of executive education programs at Duke University's Fuqua School of Business and the University of Virginia's Darden Graduate School of Business Administration.

Chriszt is a member of the National Association of Business Economists and the Atlanta Economics Club, where he served as president from 2015 to 2017. He also serves on the advisory board of the Michael J. Coles College of Business at Kennesaw State University and the board of the Georgia Council on Economic Education. A native of Cleveland, Ohio, Chriszt is married to Maxine and they have five children and one grandchild.