The Community Reinvestment Act (CRA) regulations are a critical tool for encouraging investment in low- and moderate-income (LMI) communities and promoting economic development. However, much has changed since the CRA was enacted in 1977—including technology-driven innovations in financial services. The Federal Reserve and other federal banking regulators are engaged in efforts to strengthen and modernize the CRA. As part of this process, the Federal Reserve System sought feedback from a variety of groups such as bankers and local community groups.
A series of 29 roundtable discussions on the current state of, and potential revisions to, the CRA were held between October 2018 and January 2019. Now the Fed Board has published a report that summarizes the feedback it received, Perspectives from Main Street: Stakeholder Feedback on Modernizing the Community Reinvestment Act. More than 400 participants shared views that will factor into the Board's consideration of any CRA modernization proposals. Representatives from the other federal banking agencies with CRA responsibility were also invited to attend the roundtables.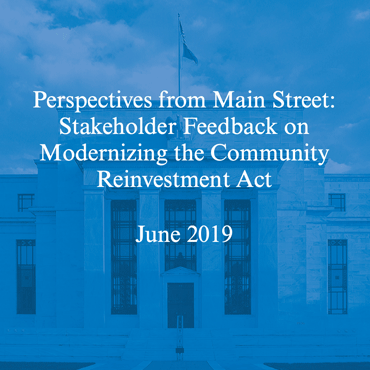 "Meeting with bankers and community group members in communities all around the country allowed us to hear nuanced perspectives about what works well and what could work better under the CRA," said Board governor Lael Brainard. Check out the report.