​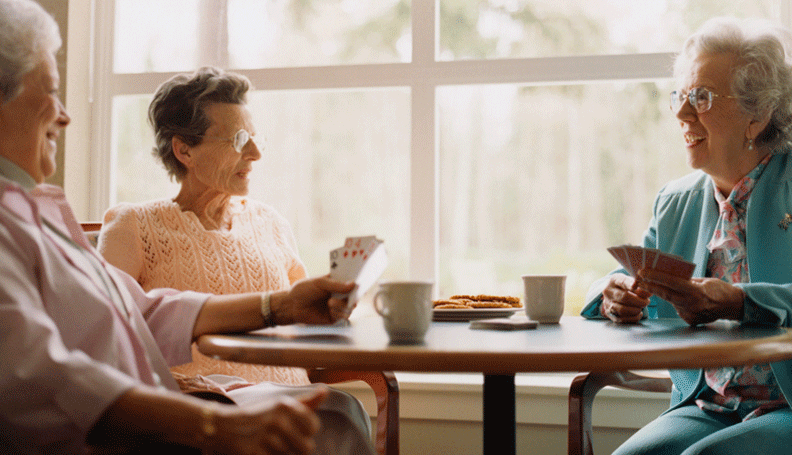 The number of Americans 75 and older will double by the early 2030s and then keep rising. By 2040, that group will number 45.7 million, as the overall population grows just 18 percent, according to U.S. Census Bureau projections.
This gray wave is powering a multibillion-dollar industry focused on building, owning, operating, and buying and selling "senior living facilities." These facilities range from luxury independent-living communities to nursing homes. Firms and investors are drawn to the business primarily by demographics, greater affluence among the elderly, and consolidation in a fragmented industry.
Start with demographics. The industry's target market—the 75-and-older cohort—is set to add on average just over a million people every year for nearly the next three decades. The baby boom generation—76 million Americans born between 1946 and 1964—won't hit its prime as senior living residents for several more years, says Beth Burnham Mace, chief economist for the National Investment Center for Seniors Housing & Care, or NIC. While the target market starts younger, the average age of senior living residents today is about 84. So for now, the boomers' influence is in guiding their parents' choices about whether and when to move into senior housing.
Given that dynamic, a crucial statistic shaping senior housing demand is the "caregiver support ratio," Burnham Mace says. Right now, there are about seven adult children—ages 45 to 64—for each person 80 and older, according to the American Association of Retired Persons. As boomers age, the 7-to-1 ratio will fall to 4-to-1 by 2030 and less than 3-to-1 by 2050, she says, likely sending more people into senior living facilities because there will be fewer adult children to care for them at home.
Percentage of seniors in senior living facilities generally rising
As of today, roughly 7 to 10 percent of people 75 and older live in senior housing. Comparing the periods 1985 to 1995 and 1996 to 2011, that penetration rate climbed among all five-year age increments over 65 (70–74, 75–79, etc.), according to the Panel Study of Income Dynamics, a longitudinal survey that began in 1968 and is headed by University of Michigan faculty.
Even if the penetration rate doesn't change further, the estimated demand for private-pay senior living units—apartments, rooms, individual homes—could increase 56 percent by 2025 simply because of population aging, according to a presentation at a 2015 forum by the National Multifamily Housing Council, an apartment industry trade group.
Burnham Mace predicts the penetration rate will increase because of a declining caregiver support ratio and growing comfort with senior living environments. Another reason is that, unlike most of their parents, many baby boomers have lived in institutional settings like college dormitories and may be more comfortable in that type of environment.
Industry feeding off more than population numbers
Population trends are not the only factor fueling the industry. New senior living residents tend to be wealthier than in past years, according to a 2015 study by the National Association of Real Estate Investment Trusts, or NAREIT. In earlier decades, the move to senior housing was usually compelled by a health crisis that intensified the need for nursing or medical care.
More recently, however, the move to senior living is often a lifestyle choice. Active older people enjoy the activities and sense of community in newer senior facilities and the freedom to leave behind home maintenance. Higher-end senior communities today feature amenities such as theaters, spas, salons, and fine dining.
"The relationship between age, wealth, and the probability of occupancy in senior housing appears to have changed since the early to mid-1990s," write Calvin Schnure and Shruthi Venkatesh in the NAREIT study.
Still, luxury senior living communities are likely to remain a fraction of the overall industry. Higher-end facilities will serve roughly the wealthiest 30 percent of seniors, Burnham Mace estimates. In fact, she figures the senior housing sector will evolve toward a model similar to the hotel industry: luxury properties for those who can afford them, more moderately priced places in the middle, and then lower-priced and government-subsidized properties.
"Whoever can really figure out how to make the middle income or affordable product is going to do great, because the demand is so huge," Burnham Mace says.
Senior living industry a spring chicken
Senior living properties have become an accepted real estate investment category alongside sectors such as office, retail, and warehouse space, points out Brian Bailey, who follows the commercial real estate sector as a senior financial and policy analyst in the Atlanta Fed's Supervision and Regulation department.
A couple of related characteristics make senior living attractive to property investors. For one, the powerful demographics have already fueled tremendous growth and change. The number of assisted and independent living units, subsets of the larger senior living segment, more than tripled during the 1980s, then doubled again by 2000, according to NAREIT.
Second, the senior living industry is still sorting itself out. A commercial senior living business hardly existed before the 1970s, a time when fewer women worked outside the home and could care for elderly relatives. The business even today includes numerous small operators, religious organizations, and a handful of large companies.
Several large real estate investment trusts, or REITs, have made significant acquisitions in senior living. REITs and firms that own and operate senior living facilities buy and sell hundreds of properties a year. In the 12 months through the first quarter of 2016, for example, senior housing deals totaled $12.3 billion, according to NIC. The busiest calendar year in dollar terms was 2011, when 312 senior living transactions came to $27.6 billion, according to NIC.
Many REITs acquire or develop senior living properties, and then contract with other firms to run them. Some of the REITs investing in senior living focus on health care properties generally, and include senior living facilities in those portfolios.
One of the biggest publicly traded senior living operators, Brentwood, Tennessee-based Brookdale Senior Living Inc., exemplifies the pattern of assembling a strategic network of facilities. Brookdale notes in its annual report filed with the Securities and Exchange Commission this year that "the fragmented nature of the senior living industry and the limited capital resources available to many small, private operators provide an attractive opportunity for the company to expand its existing base of senior living operations."
The company is doing just that. Brookdale in July 2014 acquired a rival senior living owner and operator for $3 billion, and made an additional $500 million-plus in acquisitions in 2015.
Industry is not without challenges
Despite favorable demographics and an influx of investment, challenges abound. The senior living industry is a complicated, highly competitive business touching on health care, real estate, hospitality, food service, and an array of legal and regulatory requirements. Over time, senior living facilities will likely need to provide more intense and complex medical care, which can be expensive, difficult, and subject to numerous regulations and federal reimbursement rules. In fact, many of today's larger senior living firms focus on the "private pay" market, which typically includes more affluent customers and avoids the need for government reimbursement.
Senior living is also labor-intensive. Worker pay and benefits account for about 60 percent of expenses, according to NIC. To try to control costs, operators are eyeing labor-saving technologies ranging from wearable monitors for residents to robots to sensors installed in carpets to signal when residents might be growing unsteady.
The Great Recession did not bypass the senior living business, either. At least temporarily, the downturn slowed the flow of elderly people moving to senior living centers, according to the NAREIT study. It appears, the paper says, that many people delayed moving because of reduced wealth from declining home values and investment portfolios. Also, during housing market slumps, seniors have a harder time selling their homes to move into senior living facilities.
Whatever the particular operating strategies firms employ, money will be a critical factor in the long run. "The inherent doubt about baby boomers is their savings rate." notes a June 2015 article in Cornell University's Cornell Real Estate Review, "Will they have saved enough to afford the private pay scale that constitutes senior living?"
Long-term success for the industry, observers say, likely will hinge on the number of affluent seniors in the market for senior living and how well operators and owners adapt to changing resident demands and medical needs.
Editor's note: For an in-depth discussion of the economic implications of the aging American population, please read the Atlanta Fed's 2015 annual report.