Your bank must maintain a public file, updated as of April 1 each year, that includes the following information:
For the current year and two previous years, all written comments from the public about how your bank is helping meet community credit needs. The file must also include your bank's response to these comments.
A copy of the public section of your bank's most recent CRA performance evaluation. Your bank must place the copy in its public files within 30 business days after receiving it. If your bank received a less-than-satisfactory rating during its most recent examination, it must include a description of efforts to improve its performance and update that report every three months.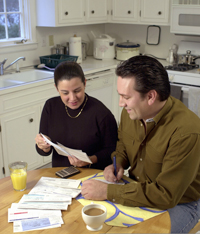 A list of your bank's current branches with their street addresses and the geographic areas they serve. The list must also show this information for any branches your bank has opened or closed during the current year and previous two years.
A list of services—including hours of operation, available loan and deposit products, and fees—offered at your bank's branches. This list must note any significant differences in services at particular branches.
A map of the bank's assessment area showing its boundaries and identifying the various geographic areas within it, either on the map or in a separate list.
For banks other than small banks, information on your bank's consumer loans or any affiliates' consumer loans for the previous two years.
For banks required to report Home Mortgage Disclosure Act (HMDA) data, a written notice about the HMDA disclosure statement.
An HMDA disclosure statement of any affiliate mortgage lending considered under the lending test for the previous two years.
A copy of your bank's strategic plan if the bank is evaluated by one.
For a large bank, its CRA disclosure statement, prepared every year by its regulator. The statement contains information about small business and small farm loans and the population's income levels for each county where the bank operates.