Expecting Solid Growth, Lockhart Focusing on Inflation
January 14, 2016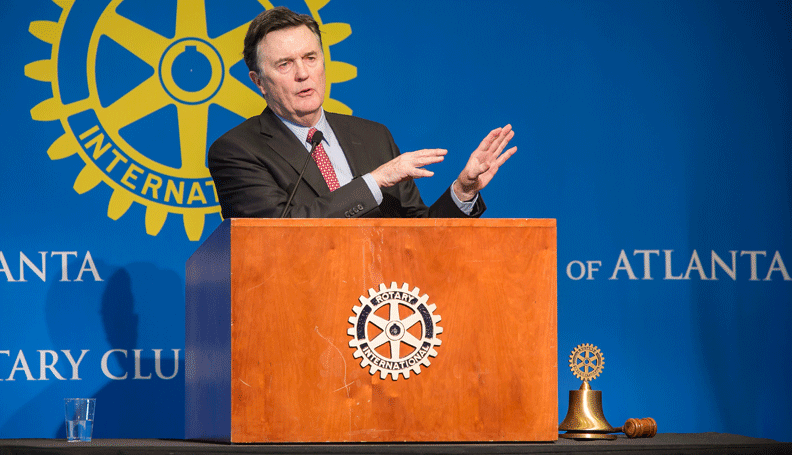 Photo by Jason Palmer
Atlanta Fed President Dennis Lockhart described his economic forecast for 2016 as "mildly, not wildly" optimistic. Lockhart delivered his annual economic outlook speech to the Rotary Club of Atlanta on January 11. It was Lockhart's ninth January message to the group of business leaders, and his appearance continued a tradition by Atlanta Fed presidents dating back a quarter century.
Lockhart detailed an outlook calling for continued moderate growth. He expects gross domestic product (GDP) to expand between 2 and 2.5 percent for the year. Lockhart noted that while the fourth quarter of 2015 might ultimately produce weak results, "mixed data do not undermine my basic forecast."
Loading the player...
Listen to President Lockhart's speech to the Rotary Club of Atlanta
One reason: strong employment growth signals healthy economic momentum. The 292,000 new nonfarm jobs created in December capped a year in which the economy added nearly 2.7 million jobs, Lockhart said, which followed an even better year in 2014. "The hiring trend in our economy has been quite encouraging," he said.
Full employment likely over next year or so
Over roughly the next year, he believes the nation's economy will reach what most economists consider "full employment," which makes up half of the Fed's dual mandate, along with low and stable inflation. Lockhart expects measurements of unemployment and underemployment-conditions such as people working part time who'd prefer full-time work-to likely improve enough to signal full employment. Lockhart figures we'll also see signs of a tightening labor market, such as better wage growth.
"In fact," the Atlanta Fed president said, "our business contacts have told us in recent months that it is increasingly difficult to find and retain staff. There is not yet convincing evidence of faster broad-based wage growth, but there were some hints of a pickup in wage growth in the second half of 2015."
Consumer spending has been another bright spot. In particular, historically brisk automobile sales have fueled strong consumer spending at home. Indeed, thanks largly to consumers, Lockhart believes the nation's economy has enough momentum that gradually rising interest rates will not "snuff out consumer demand."
There are obstacles, to be sure. Among his concerns, Lockhart listed a weak global economy, a dip in energy-sector investment amid falling oil and gas prices, and a slowdown in corporate inventory investment.
Inflation a focus in 2016
Inflation will be a key focus for Lockhart this year. For some years now, inflation has been below the Federal Open Market Committee (FOMC) target of 2 percent. But Lockhart reiterated his view that lagging inflation reflects the likely temporary influence of lower prices for energy and imports.
Inflation matters a great deal to Fed policymakers. Information about prices helps Fed officials evaluate broad economic performance, as those numbers reveal something about overall demand for goods and services and "whether the economy is reaching a notional steady state," Lockhart explained. For now, he added, "Inflation is below where we want it, below what we consider to be most healthy, but the picture is not really worsening."
In coming months, Lockhart will look for more hard evidence of inflation readings starting to converge to the FOMC's target.